835TQC-R802B
Chassis Supermicro CSE-835TQC-R802B 3U 800W Redundant Hot-Swap 8xHDD SATA/SAS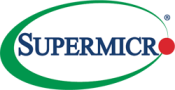 Net: $ 867.24
Gross: $ 1 066.71
Manufacturer: Supermicro
Part number: 835TQC-R802B
Weight (gross): 34.02 kg
Size of the package (LxWxH): 87cm x 68cm x 33cm
UPC/EAN: 672042342631
HS: 8473 30 20 00
ECCN: EAR99
Availability: PL: NoneNL: 184 pcs. (destimated delivery time from 4 to 10 business days)
Delivery cost: $ 6.88 net ($ 8.47 gross)
(the indicative cost of delivery on Poland's territory)
The indicative delivery cost in EU - 20€ DHL/30€ UPS
More info at manufacturer site
Broken link? Report us.
Add to cart
Kluczowe cechy / Key features :
1. 800W Redundant High-efficiency Titanium Level Power Supplies
2. 8x 3.5" Hot-swap SAS3/SATA3 drive bays, space to support 2x 5.25" Drive Bays & 1x Slim DVD
3. Optional hot-swap Slim HDD/SSD drive Kit and Mobile Racks for additional storage
4. 7x Full-height, Full-length Expansion Slots
5. Five Fans (3 middle, 2 rear) & Adjustable Air Shroud for 100% Cooling Redundancy
Product description
Manufacturer
Supermicro
SKU
CSE-835TQC-R802B
Basic informations
U size
3U
Expansion slots #
7
Motherboard formats support
ATX, E-ATX
Motherboard sizes support
12" x 13", 12" x 10"
Power Supply
Redundant power supply
Yes
Power supply power
800 W
Power supply type
AC
Drives
Hot-Swap
Yes
Max. drives #
8
3,5" drives support
Yes
2,5" drives support
No
SATA support
Yes
SAS support
Yes
CD/DVD drive installation possibility
Yes
CD/DVD drive type
slim
SAS controller required
No
Other
Application
High-efficiency, Cost-effective
Product description errors? Please let us know.