835TQC-R802B
Chassis Supermicro CSE-835TQC-R802B 3U 800W Redundant Hot-Swap 8xHDD SATA/SAS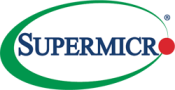 Net: $ 867.24
Gross: $ 1 066.71
Manufacturer: Supermicro
Part number: 835TQC-R802B
Weight (gross): 34.02 kg
Size of the package (LxWxH): 87cm x 68cm x 33cm
UPC/EAN: 672042342631
HS: 8473 30 20 00
ECCN: EAR99
Availability: PL: NoneNL: 156 pcs. (destimated delivery time from 4 to 10 business days)
Delivery cost: $ 6.67 net ($ 8.20 gross)
(the indicative cost of delivery on Poland's territory)
The indicative delivery cost in EU - 20€ DHL/30€ UPS
More info at manufacturer site
Broken link? Report us.
To avoid steep bank's fee you may pay via SEPA transfer (EURO) or Revolut (Express Elixir) and Wise (Elixir) for payment in USD and EURO.
Add to cart
Kluczowe cechy / Key features :
1. 800W Redundant High-efficiency Titanium Level Power Supplies
2. 8x 3.5" Hot-swap SAS3/SATA3 drive bays, space to support 2x 5.25" Drive Bays & 1x Slim DVD
3. Optional hot-swap Slim HDD/SSD drive Kit and Mobile Racks for additional storage
4. 7x Full-height, Full-length Expansion Slots
5. Five Fans (3 middle, 2 rear) & Adjustable Air Shroud for 100% Cooling Redundancy
Product description
Manufacturer
Supermicro
SKU
CSE-835TQC-R802B
Basic informations
U size
3U
Expansion slots #
7
Motherboard formats support
ATX, E-ATX
Motherboard sizes support
12" x 13", 12" x 10"
Power Supply
Redundant power supply
Yes
Power supply power
800 W
Power supply type
AC
Drives
Hot-Swap
Yes
Max. drives #
8
3,5" drives support
Yes
2,5" drives support
No
SATA support
Yes
SAS support
Yes
CD/DVD drive installation possibility
Yes
CD/DVD drive type
slim
SAS controller required
No
Other
Application
High-efficiency, Cost-effective
Product description errors? Please let us know.