836BE1C-R1K03JBOD
Chassis Supermicro CSE-836BE1C-R1K03JBOD 3U 1000W Redundant Hot-Swap 16xHDD SATA/SAS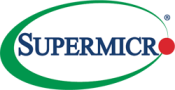 Net: $ 1 742.04
Gross: $ 2 142.71
Manufacturer: Supermicro
Part number: 836BE1C-R1K03JBOD
Weight (gross): 32.66 kg
Size of the package (LxWxH): 102cm x 68cm x 33cm
UPC/EAN: 672042195749
HS: 8473 30 20 00
ECCN: EAR99
Availability: PL: NoneNL: 16 pcs. (destimated delivery time from 4 to 10 business days)
Delivery cost: $ 6.88 net ($ 8.47 gross)
(the indicative cost of delivery on Poland's territory)
The indicative delivery cost in EU - 20€ DHL/30€ UPS
More info at manufacturer site
Broken link? Report us.
Add to cart
1. 3U Storage JBOD Chassis with capacity 16 x 3.5" hot-swappable HDDs bays
2. Single Expander Backplane Boards support SAS3/2 HDDs with 12Gb/s throughput
3. 4 x Mini-SAS HD ports for Internal / External Cascading Expander Combination for high performance, high availability or high redundancy requirements
4. 1x IPMI port for Remote System Power on/off and system monitoring
5. Support NTP for time synchronization & RTC battery backup
6. 1000W (1+1) 96% efficient Titanium level power supplies
7. 5 hot-plug redundant cooling fans
8. Ideal for Cloud backup, data Replication or High desnsity Archive Storage Applications
Product description
Manufacturer
Supermicro
SKU
CSE-836BE1C-R1K03JBOD
Basic informations
U size
3U
Expansion slots #
0
Motherboard formats support
Proprietary
Motherboard sizes support
10.3" x 13"
Power Supply
Redundant power supply
Yes
Power supply power
1000 W
Power supply type
AC
Drives
Hot-Swap
Yes
Max. drives #
16
3,5" drives support
Yes
2,5" drives support
No
SATA support
Yes
SAS support
Yes
CD/DVD drive installation possibility
Yes
CD/DVD drive type
slim
SAS controller required
Yes
Other
Application
Cost-effective, Workstation
Product description errors? Please let us know.