GS1920-48
Switch Zyxel SSE-GS1920-48 • 100Gbps • 44x100/1000Mbps, 2x1Gbps SPF, 4x1Gbps SFP/RJ-45 • A/C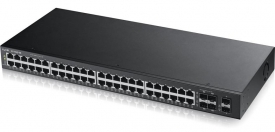 Powyższe zdjęcie może prezentować zróżnicowaną konfigurację lub opcjonalne części.
Netto: 3 429,55 zł
Brutto: 4 218,35 zł
Dostępność: 6 szt. (szacowany czas dostawy od 1 do 3 dni roboczych)
Koszt dostawy: 25,00 zł netto (30,75 zł brutto)
(orientacyjny koszt dostawy na terenie Polski)
Orientacyjny koszt dostawy w UE - 20€ DHL/30€ UPS
Więcej informacji na stronie producenta
Link nie działa? Powiadom nas.
Do koszyka
Opis produktu
Producent
Zyxel
SKU
SSE-GS1920-48
Podstawowe informacje
Opis

Standard Compliance

IEEE 802.3 10BASE-T Ethernet
IEEE 802.3u 100BASE-TX Ethernet
IEEE 802.3ab 1000BASE-T Ethernet
IEEE 802.3z 1000BASE-X
IEEE 802.3af PoE
IEEE 802.3at PoE Plus
IEEE 802.3az EEE
IEEE 802.3x flow control
IEEE 802.3ad LACP aggregation
IEEE 802.1AB LLDP/LLDP-MED
IEEE 802.1D Spanning Tree Protocol (STP)
IEEE 802.1w Rapid Spanning Tree Protocol (RSTP)
IEEE 802.1s Multiple Spanning Tree Protocol (MSTP)
IEEE 802.1Q VLAN Tagging
IEEE 802.1p Class of Service (CoS) Prioritization
IEEE 802.1X port authentication

Resilience and Availability

IEEE 802.1D Spanning Tree Protocol (STP)
IEEE 802.1w Rapid Spanning Tree Protocol (RSTP)
IEEE 802.1s Multiple Spanning Tree Protocol (MSTP)
IEEE 802.3ad LACP (Max # Trunks/Links per Trunk): 8/8
Loop guard
ErrDisable recovery
MRSTP (Zyxel proprietary)
Dual configuration files
Dual images

Traffic Control

802.1Q Static VLANs/Dynamic VLANs: 1 K/4 K
Port-based VLAN
Protocol-based VLAN
IP Subnet-based VLAN
MAC-based VLAN
Private VLAN
Voice VLAN
VLAN ingress filtering
LACP algorithm of source/destination MAC/IP
GVRP
L2PT

Security

802.1X
Port security
Layer 2 MAC filtering
Layer 3 IP filtering
Layer 4 TCP/UDP socket filtering
Static MAC forwarding
Multiple RADIUS servers
Multiple TACACS+ servers
802.1x VLAN and 802.1p assignment by RADIUS
Login authentication by RADIUS
Login authentication by TACACS+
TACACS+ accounting
Authorization on RADIUS
Authorization on TACACS+
SSL
MAC freeze
DHCP snooping
ARP inspection
Static IP-MAC-Port binding
Policy-based security filtering
Port isolation
IP source guard
MAC search
Guest VLAN
ACL packet filtering (IPv4/IPv6)
CPU protection
Interface related trap enable/disable (by port)

Quality of Service (QoS)

No. of hardware queues per port: 8
802.1p queuing methods: SPQ, WRR, WFQ
Storm control: broadcast, multicast, unknown unicast (DLF)
Port-based rate limiting (ingress/egress)
Rate limiting per IP/TCP/UDP per port
Policy-based rate limiting
802.3x flow control
802.1p Class of Service (SPQ, WFQ, SPQ/WFQ combination capable)
DiffServ (DSCP)

Layer 2 Multicast

L2 multicast
IGMP snooping (v1, v2, v3)
IGMP snooping Fast Leave
Configurable IGMP snooping timer and priority
IGMP snooping statistics
IGMP throttling
MVR support
IGMP filtering
IGMP snooping immediate leave
IGMP proxy mode & snooping mode selection
MLD snooping
Manageability

SNMP v1, v2c, v3
SNMP trap group
RMON (1, 2, 3, 9)
ICMP echo/echo reply
Syslog
IEEE 802.1AB LLDP
IEEE 802.1AB LLDP-MED

IPv6 Management

IPv6 over Ethernet (RFC 2464)
IPv6 addressing architecture (RFC 4291)
Dual stack (RFC 4213)
ICMPv6 (RFC 4443)
Path MTU (RFC 1981)
Minimum path MTU size of 1280 (RFC 5095)
Encapsulation for maximum PMTU of 1500
Neighbor discovery (RFC 4861)
DHCPv6 relay
New Default DHCP client mode

Device Management

Zyxel iStackingTM
Web interface
Management through SNMP
Remote firmware upgrade by Web
Configuration saving and retrieving
Configure clone
DHCP relay per VLAN
DHCP client
Daylight saving
NTP
Port mirroring
New Scheduled PoE

MIB

Zyxel private common MIB
RFC 1066 TCP/IP-based MIB
RFC 1213, 1157 SNMPv2c/v3 MIB
RFC 1493 bridge MIB
RFC 1643 Ethernet MIB
RFC 1757 RMON Group 1, 2, 3, 9
RFC 2011, 2012, 2013 SNMPv2 MIB
RFC 2233 SMIv2 MIB
RFC 2358 Ethernet-like MIB
RFC 2674 bridge MIB extension
RFC 2819, 2925 remote management MIB
RFC 3621 power Ethernet MIB
RFC 4022 management information base for transmission control protocol
RFC 4113 management information base for user datagram protocol
RFC 4292 IP forwarding table MIB
RFC 4293 Management Information Base (MIB) for IP

Porty
44x100/1000Mbps, 2x1Gbps SPF, 4x1Gbps SFP/RJ-45
Przepustowość przełączania
100 Gbps
Rodzaj zasilania
A/C
Maks. pobór mocy
38 W
Posiada wentylator?
Nie
Porty do zarządzania #
0
Błędy w opisie produktu? Daj nam znać.